Training & Education
Are you interested in career training, going back to school to begin a new career, or continuing your education to advance your present career? Workforce Solutions for the Heart of Texas can help you achieve your training and education goals!
Job training helps you prepare for an occupation that is currently in high-demand of qualified candidates and that pays well. If you're interested in learning more about jobs that are in high-demand in the Heart of Texas region and the education and training needed to obtain the job you want, we encourage you to review two Workforce Solutions products, available online at no cost to you: Targeted Occupations List for the Heart of Texas region, Targeted Occupations Guide and Career Pathways Guide.
We also encourage you to browse the no-cost training and education opportunities and resources on this page.
SkillUp Heart of Texas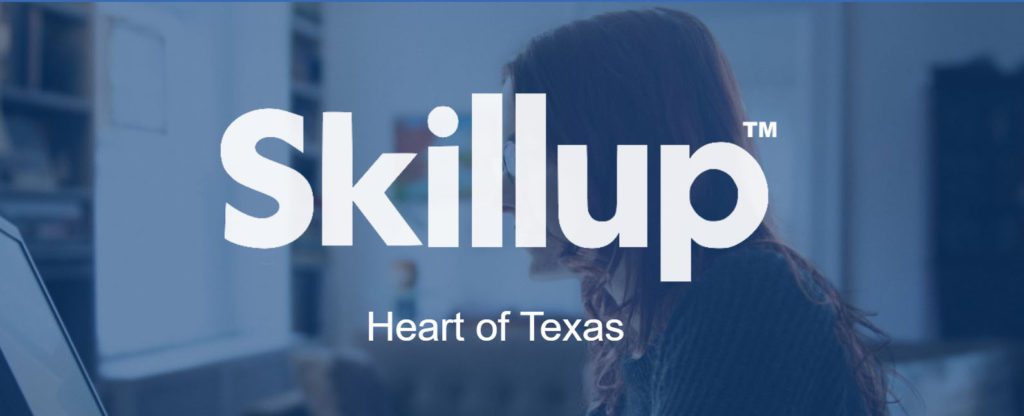 Workforce Solutions for the Heart of Texas is proud to expand its no-cost training opportunities for Heart of Texas residents with the launch of SkillUp Heart of Texas.
SkillUp Heart of Texas offers free access to workplace, business, and IT courses, as well as offers Texans the ability to explore career pathways in over 200 occupations.
Whether you are looking to increase your skills, change industries, find a new career, or gain better employment in a high-demand industry, SkillUp Heart of Texas offers resources to deliver solutions, including access to local job postings and workforce services through Workforce Solutions for the Heart of Texas.
Register for your free account now to get started!
Register for Your Free SkillUp Account
Google Professional Certifications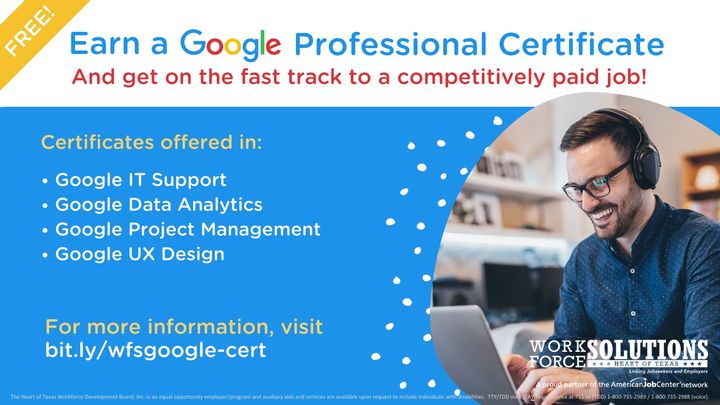 Workforce Solutions for the Heart of Texas has teamed up with Google to provide FREE Google Professional Certificates! Scholarships are awarded to individuals who are committed to finishing the Google Career Certificate Program by January 31, 2023. Certificates can be earned in:
✏️ Google IT Support
✏️ Google Data Analytics
✏️ Google Project Management
✏️ Google UX Design
Earning a certificate provides job training for entry-level jobs in fast-growing fields. Plus, once you earn your certificate, you'll be able to share your resumes with over 130 companies—including Walmart, Verizon, Deloitte, and of course, Google. Ready to get started? Complete the online Google Certificate Interest form now!
Google Certification Interest Form
Adult Education & Literacy (AEL)
Adult Education & Literacy (AEL) services for the Heart of Texas Services are offered through McLennan Community College. Services offered include:
GED Preparation

 (Academic preparation toward readiness for the high school equivalency examination)

 

Contextualized GED/Skills Training

 (Traditional GED preparation with concurrent skills training offered to also prepare the learner with occupational skills toward improved employment opportunities)

 

English as a Second Language (ESL) and Civics

 (ESL courses teach English literacy to individuals with languages other than English as their primary language. These courses are often paired with Civics courses which inform individuals on United States history, culture, and practice in preparation for citizenship)

 
GED & ESL Classes
Are you interested in completing your GED? McLennan Community College's Adult Education Program can help. Call today at 254-299-8777 to get started.
Esta interesado en completar su GED o aprender Ingles? McLennan Community College's Adult Education Programa puede ayudarle. Llámelos hoy al 254-299-8777.
Local Training Institutions
Training institutions located in the Heart of Texas region include the following:
Registered Apprenticeships
A Registered Apprenticeship (RA) is a career pathway where individuals can earn and learn at the same time. Apprentices earn a competitive wage and gain on-the-job experience while earning an industry-recognized credential. Employers are able to develop and train their own workforce. Learn more about our Healthcare, Skilled Trades and Early Childhood Education registered apprenticeship programs.
College Credit for Heroes
Do you think you deserve credit for your military training? We do! Check out College Credit for Heroes is an online database that matches military training to college courses. As a guest user you can enter your military occupation and service schools to get an immediate estimate of potential college credits. Or, you can complete the free registration and request an official evaluation of your military educational experience. And, if you decide to pursue a degree or certificate, you can even request an official college transcript. College Credit For Heroes is a partnership between the Texas Workforce Commission and the Texas Higher Education Coordinating Board.